Description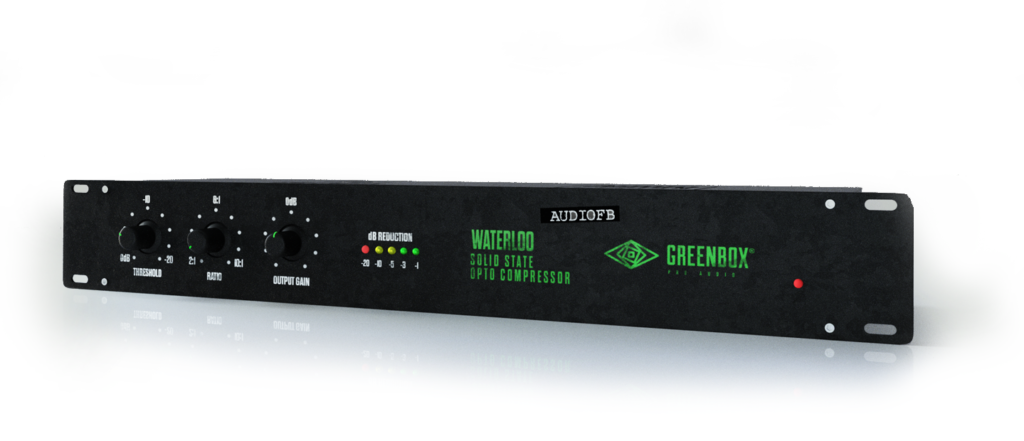 ---
Waterloo
Compressor inspired by the opto Waterloo compressor hardware, developed by brazilian company Greenbox.
Waterloo is opto-compressor that offers three front controls with a very transparent audio signal. With the Threshold and Ratio controls you can achieve an incredible range of sounds. After compressing as desired, it is possible to compensate the gain with the Output Gain control. The other compression parameters are fixed, predetermined to act correctly, regardless of how the other controls are used.  
• Att – Attack fixed at 1.1ms
• Rel – Relase fixed at 0.35s
• Thereshold – with decibel range from 0db to -20db.
• Ratio – Compression ratio, ranging from 2:1 to 10:1.
• Output – Output signal gain control max. +15db.
All AudioFB Plug-ins are available for Mac OS and Windows. Installers contain plug-ins in 64 bit version for the following formats:
---

Compressor inspirado no compressor opto Waterloo físico, desenvolvido pela empresa brasileira Greenbox.
O Waterloo oferece três controles frontais com um sinal de áudio muito transparente. Com os controles de Threshold e Ratio é possível alcançar uma gama incrível de sonoridades. Após comprimir da forma desejada, é possível compensar o ganho com o controle de Output Gain. Os demais parâmetros de compressão são fixos, pré-determinados para atuarem corretamente, independentemente de como os demais controles forem usados.
• Att – Ataque fixado em aproximadamente 1.1ms.
• Rel – Release fixado em aproximadamente 0.35s.
• Threshold – com variação em decibel de 0db à -20db.
• Ratio – Taxa de compressão de 2:1 até 10:1.
• Output – Controle de ganho no sinal de saída com máx. de +15db.
Todos os Plug-ins estão disponíveis para MAC OSX e Windows. Os instaladores contêm plug-ins 64 bit e estão disponíveis os seguintes formatos:
VST / VST3 / AU / AAX para Windows.
VST / VST3 / AAX para Mac.
 Internet requerida para ativação.

 Sistema minimo requerido: Win 8.1 / OSX 10.13
 Dúvidas? Sugestões? Envie um email para 

[email protected]
Para conhecer o hardware Waterloo acesse: www.greenboxproaudio.com.br/waterloocompressor