Description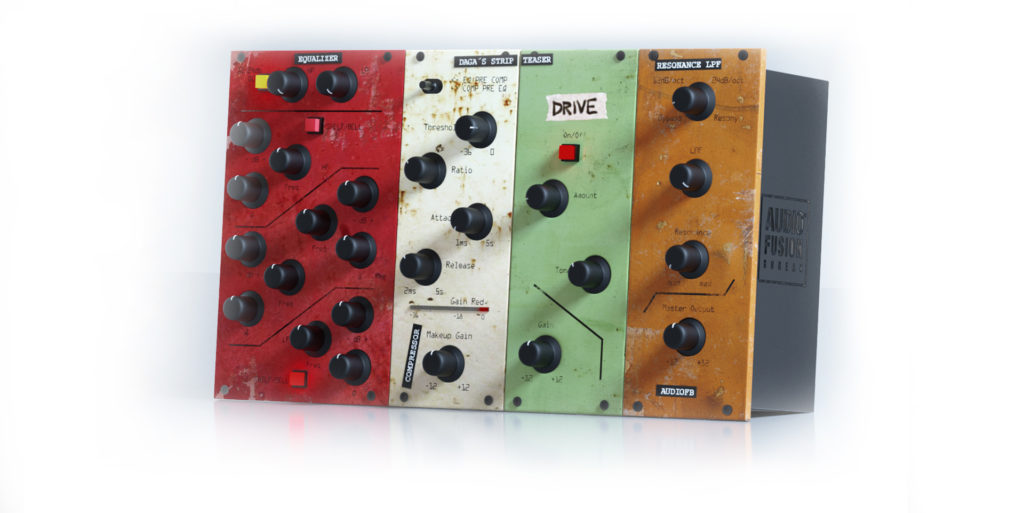 Daga's StripTeaser is a channelstrip developed for all styles of mixing. Designed by producer brothers Adriano and Giu Daga in partnership with AudioFB, StripTeaser becomes the first Brazilian plug-in to be signed by major music producers.
The Stripteaser has a multi-effect rack with:
4-band equalizer, where the extreme bands can be switched to bell or shelf types, 'high pass' filter with option of 12db / octave or 24db / octave and 'low pass' filter.
Versatile compressor with Threshold, Ratio, Attack, Release control, a post compression gain control and also has a control that allows you to switch between compression after equalization or equalization after compression.
Drive, this plugin module allows you to add a fuzz-like saturation to your track, Tone is an exciter between low and high frequencies. This effect contains an on / off button.
Low pass filter with resonance is a charm in our plug-in, the first control of this effect determines the type of filter to be used, the second control the frequency reached by the filter. The third control works only with the Resony mode and controls the resonance intensity.
Finally, a general volume master ranging from -12db to + 12db.
"Together with AudioFB, we managed to gather everything I use most in my mixes in this Plug-in. In addition to being super versatile, it also brings a more modern sound to my productions."
Giu Daga – Music Producer / Mixing and Recording Engineer (Midas Studios)
"We are proud to have managed to develop together with AudioFB the first national plugin with our signature and our personality, full of possibilities and very versatile."
Adriano Daga – Music Producer / Mixing and Recording Engineer (Daga Music House Label)
All AudioFB Plug-ins are available for Mac OS and Windows. Installers contain plug-ins in 64 bit version for the formats:
  VST / VST3 / AAX for Windows. VST / VST3 / AU AAX for Mac.
 Internet connection required for product activation.

 Minimum Systems Required: Win 8.1 / OSX 10.13
 Questions? suggestions? send an email

[email protected]
---
O Daga's StripTeaser é um channelstrip desenvolvido para atender todas as necessidades da mixagem. Pensado e projetado pelos irmãos produtores Adriano e Giu Daga em parceria com a AudioFB, o StripTeaser se torna o primeiro plug-in brasileiro a levar assinatura de produtores renomados do cenário musical.  
O Stripteaser tem um rack multi-efeito com:
Equalizador de 4 bandas, onde as bandas extremas podem ser alternadas para os tipos bell ou shelf, filtro 'passa alta' com opção de 12db/oitava ou 24db/oitava e filtro 'passa baixa'. 
Compressor versátil com controle de Thershold, Ratio, Attack, Release um controle de ganho pós compressão e ainda conta com controle que permite alternar entre compressão pós equalização ou equalização pós compressão.
Drive, esse módulo do plugin permite adicionar uma saturação do tipo fuzz a sua track, Tone é um exciter entre as frequências baixas e altas. Esse efeito contém um botão de liga/desliga.
Filtro passa baixa com ressonância é um charme em nosso plug-in, o primeiro controle desse efeito determina o tipo de filtro ao ser usado, o segundo controle a frequência alcançada pelo filtro.
O terceiro controle funciona apenas com no mode Resony e controla a intensidade da ressonância.
Por último um controle geral de volume que vai de -12db a +12db
"Conseguimos junto com a AudioFB reunir tudo o q eu mais uso nas minhas mixagens nesse Plug-in. Além de ser super versátil ainda traz uma sonoridade mais moderna para as minhas produções."
Giu Daga – Produtor Musical / Engenheiro de mixagem e gravação (Midas Studios)
"Temos o maior orgulho de ter conseguido desenvolver junto com a AudioFB o primeiro plugin nacional com nossa assinatura e com a nossa personalidade, cheio de possibilidades e muito versátil"
Adriano Daga – Produtor Musical / Engenheiro de mixagem e gravação (Selo Daga Music House)
Todos os Plug-ins estão disponíveis para MAC OSX e Windows. Os instaladores contêm plug-ins 64 bit e estão disponíveis os seguintes formatos:
  VST / VST3 / AU / AAX para Windows. VST / VST3 / AAX para Mac.
 Internet requerida para ativação.

 Sistema minimo requerido: Win 8.1 / OSX 10.13
 Dúvidas? Sugestões? Envie um email para

[email protected]
---